A stunningly beautiful Christmas Lightshow at the National Trust's beautiful Erddig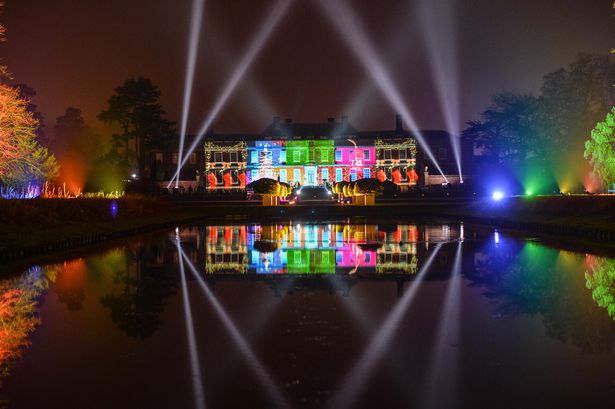 Dec 08, 2014 12:08 By Laura Sprinks
A fantasy display of projections, lighting and special effects – visible from miles around the 18th century showpiece house – as the enchanting Erddig Glow Christmas celebrations were launched at the weekend
National Trust Wales has kicked off the festive celebrations with an event at one of its most enchanting listed properties with a magical night-time illumination of Wrexham's Downton Abbey-esque Erddig.
The Erddig Glow, which launched at the weekend showcased an exciting light display that illuminated the 18th century house and its romantic walled garden, complete with 'frozen' entry gates and trees, coloured up-lighters, static projections, feature lighting and more.
The 'Glow', which attracted hundreds of visitors on its inaugural night, will now take place every Friday and Saturday throughout December. The display can be seen for miles around the property making the house a perfect backdrop for a night-time stroll to escape the hustle and bustle and enjoy a feast for the senses.
What's more, the front of the country house – which reflects the upstairs downstairs life of a gentry family over 250 years ago – has an animated advent calendar projected on to it during the event which truly brings to life the spirit of Christmas.
The colourful display of numbered windows and doors has inspired a digital advent calendar which has been created to highlight key moments taking place across the places that the National Trust care for in Wales this December. It'll be packed with events, recipes, key dates and lots of handy hints and tips – perfect for those looking to make the most of the season and get into the festive spirit with their loved ones.
With a fifth of people across Wales believing that receiving an advent calendar is one of the most special Christmas traditions – the calendar will allow people to re-visit some of their most favourite pastimes during the holiday season and celebrate at one of the many events across their locations.
Places featured include Bodnant Garden, Plas Newydd and Penrhyn Castle, which sit near and within the boundaries of Snowdonia National Park, as well as Erddig, Chirk Castle and Powis Castle. Dyffryn Gardens and Tredegar House in South-east Wales are also featured as well as a cluster of beautiful places scattered throughout the west of the country, including Llanerchaeron, Stackpole and Colby Woodland Garden.
Alongside the Erddig Glow, the Trust – Europe's largest conservation charity which looks after some of the UK's most important spaces and places – has unveiled a busier than ever schedule of Christmas events that include traditional carol services, fairs, winter garden displays, elf workshops and more. There will even be a few appearances from Father Christmas himself.
Each place has a colourful line up of winter events and days out that include cheese and truffle-making workshops at Powis Castle, wreath-making workshops at Llanerchaeron and elf workshops – meaning Christmas-lovers young and old will be able to enjoy the best of the outdoors while stepping back in time to see how Christmas was celebrated in times gone by.
Bodnant Gardens will also be opening its recently-unveiled winter garden this year – giving visitors the perfect opportunity to re-discover the outdoors and enjoy a host of seasonal wildlife and colours on display. Ten years in the making and at its best with a touch of frost, the garden is a great way to explore nature in the beautiful surroundings
Other festive highlights include:
:: Christmas with the Yorke's candlelight tours at Erddig
:: Thursday Lates at Erdigg , Christmas shopping with lamp-lit below stairs and servants getting ready for Christmas
:: Christmas carolling at Dinefwr and Chirk Castle
:: Elves Workshops in Bodnant Garden
:: Christmas lunches at Powis Castle , Chirk Castle and Stackpole
:: Llanerchaeron Christmas Fair
:: Wreath Making Workshop, Llanerchaeron , Ceredigion
:: Father Christmas at Powis , Llanerchaeron , Dyffryn Gardens and many more
:: 'A Christmas Carol' weekends at Tredegar House
Justin Albert, Director National Trust Wales said: "We know how important Christmas traditions are for families young and old all across Wales. Our festive celebrations this year aim to re-kindle the magic of Christmas and let people enjoy the wonders of outdoors despite the drop in temperatures – whether making their own decorations, carolling or enjoying a glass of mulled wine during a walk among our vast gardens.
"There's tonnes going on at each of our places and we can't wait to welcome people across the country in for a mince pie and a taste of Christmases this year."
National Trust Wales is inviting people to go to http://ntwales.walesonline.co.uk/ to see the advent calendar and watch as new hints and tips are unveiled day by day.
via A stunningly beautiful Christmas lightshow at the National Trust's beautiful Erddig – Wales Online.