Projections across St Paul's for the partnership between St Paul's and The Good Grief Trust for this year's National Grief Awareness Week, 2-8 December 2020.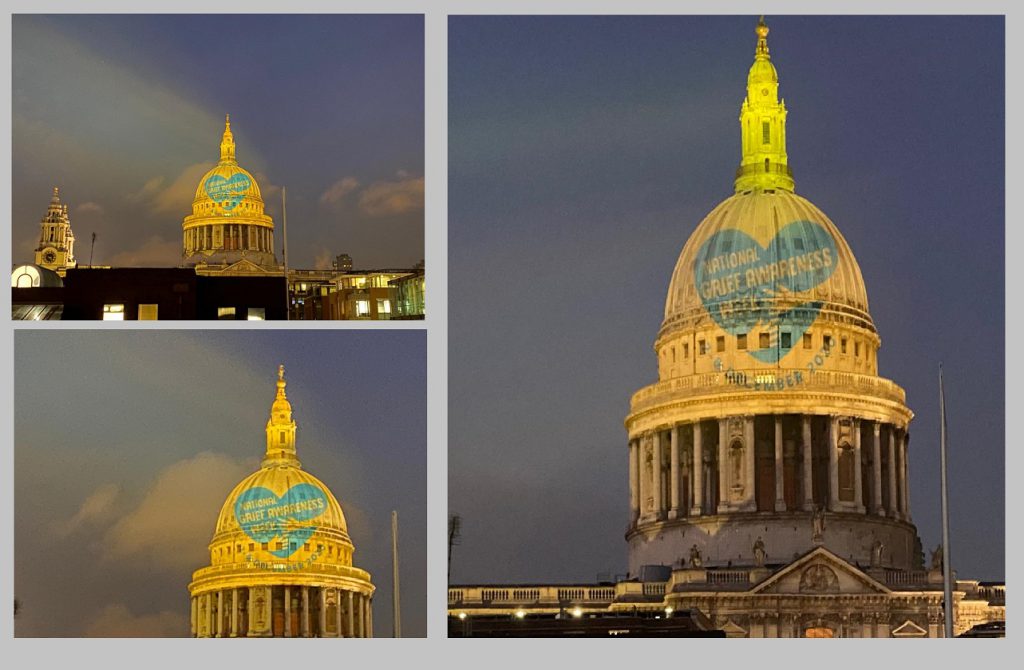 St Paul's online book of remembrance for the COVID-19 pandemic, Remember Me, has partnered with The Good Grief Trust to raise awareness of the charity and the tailored bereavement support it offers via its charity partners.
In May 2020, St Paul's Cathedral launched Remember Me, an online book of remembrance for people who have died as result of the COVID-19 pandemic in the UK. It is free to submit a tribute, open to people of all faiths, beliefs or none and will be available for as long as needed. Over 6,000 tributes have been added so far. Remember Me will remain open for as long as needed.
National Grief Awareness Week is organised by the Good Grief Trust, and aims to break the taboo around grief, providing tailored support for bereaved people through charitable partners and help raise awareness of how to handle grief.

The Dean of St Paul's The Very Reverend Dr David Ison said "As the death toll to COVID-19 rises above 50,000 and we continue in lockdown restrictions, the number of people grieving grows every day. We launched Remember Me, an online book of remembrance for this pandemic, to respond to an urgent unmet need– to remember, and mourn the people who have died from this illness. Every person is worthy of care and remembrance. At a time when we are unable to be together and grieve our loved ones, we hope that Remember Me, and the work that St Paul's is doing with the Good Grief Trust, will help bereaved families and friends during their darkest moments. "
Linda Magistris, CEO of The Good Grief Trust said "We know there is a tsunami of grief as a result of the COVID-19 pandemic. The impact of a bereavement, even under normal circumstances, can be devastating and life-long, yet hundreds of thousands of people have been grieving in isolation this year which may have a profound effect on their mental and physical health. National services have been overwhelmed. Through signposting to over 800 bespoke and local support services, The Good Grief Trust provides help and hope to anyone affected by grief under any circumstance, anywhere in the UK. When St Paul's is lit up it will shine like a beacon to remind grieving families that they are not alone."
To find out more about Remember Me and to leave a tribute to a loved one who has died as a result of the COVID-19 pandemic, visit www.rememberme2020.uk
To find out more about the National Grief Awareness Week and the work of The Good Grief Trust, visit http://nationalgriefawarenessweek.org