BUILDING PROJECTION
Building Projection for Advertising Campaigns and outside Projection events.
7KW LARGE SCALE OUTDOOR BUILDING PROJECTORS
For very large scale product placement and corporate branding, and for use for marketing campaigns across single and multiple cities Large Format slide projection is the best solution for outdoor building projection.
Large scale outdoor projections are produced using slide projectors. One single projector will produce an image from 10 metres wide up to 70 metres wide, dependant on ambient light conditions and colour of building, making them ideal for projecting onto very large structures.
The projectors have a very high power ranging from 86,000 lumens – 100,000 lumens.
There are no brighter units available throughout the world today and as only one projector is required it is very easy logistically to have a projected image produced within a short time of arriving on site. With the nature of mobile projection this is a distinct advantage over focussing multiple lower power data video projectors.
These units also have the added benefit of the slide being produced to suit the size of building. EMF has an extensive stock of Hardware for Xenon 7KW Slide Projectors which allow us to offer projection campaigns across simultaneously across different cities / countries or for even to stack them together to create a huge outdoor projection with only a few projectors.
For the more adventurous clients, EMF offers a full "Drive-By" mobile projection service of both Data video projection and Xenon Projection using EMF's extensive knowledge of specific sites throughout the UK.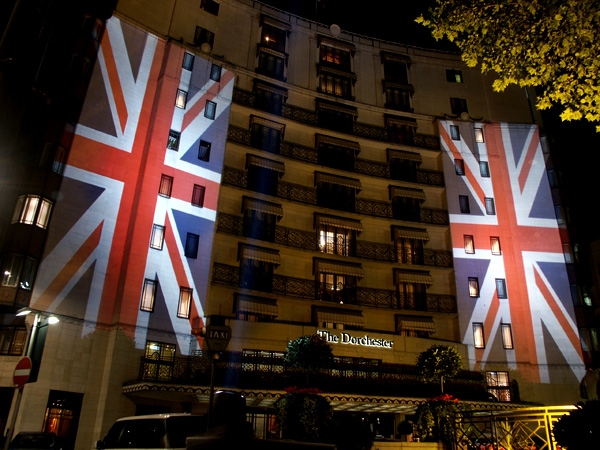 VIDEO PROJECTION.
For video projection onto buildings we have several different options from standard video projection to 3d Mapping and the Digital Davinci Graffiti Projections.
For a smaller projection that is moving our standard video projection solutions are a perfect alternative to the Large Scale still projection.
Using Data video projectors of 18,000-20,000 lumens of projection and should be considered for images or up to 20m wide in size. General video aspect should be used in standard 4:3 formats and 16:9 widescreen has less impact and without good reason should be avoided.
Larger images can be produced with Video Projection when projectors are stacked for static events however for a projection campaign round town this is not practical, therefore, working within the mindset of up to 20m wide images is prudent.